Information på svenska finns här
Welcome to the Nordic Mini Meeting 2023, which is organized by Classic Mini Club Sweden. This meeting is this year also the Summer meeting for Classic Mini Club Sweden.
Nordic Mini Meeting is a meeting for all Mini lovers in the Nordic countries where like-minded people meet over a weekend to socialize, show off their cars and participate in several fun activities. Detailed program is not ready yet, but as usual there will be a tour of the huts, "Show and Shine" and festive dinner and award ceremony on Saturday evening. The majority of visitors stay on site in tents or caravans. Here we have opportunities to create contacts across national borders.
When
Thursday 27/7 at 16.00 – Sunday 30/7 at 3 p.m
The meeting officially opens on Friday morning, but it is fine to arrive already on Thursday after 16.00. Check-out Sunday at 15.00 or as agreed with the campsite.
Location
We will be at wonderful Sävsjö Camping. Sävsjö is in the heart of Småland, about 70 kilometers south of Jönköping. The campsite has large green areas with plenty of space for tents and caravans, but without access to electricity. There are a limited number of camping sites with electricity and some camping cabins. If you wish to book one of these, you must contact the campsite yourself and the cost is not included in the meeting fee (see more info below).
At the campsite there is a service house with toilets, showers, kitchen etc. There is a swimming area, outdoor gym and mini golf course. In the café you can buy coffee, ice cream and light meals. Free wifi for all camping guests. It is walking distance to the center of Sävsjö, where there are several grocery stores, Systembolag (liquor store) and restaurants/street kitchens. Breakfast is not included in the meeting fee, but the campsite's breakfast package can be booked and pre paid in the ticket registration form. The breakfast package includes yogurt, juice, eggs, fruit, double roll with toppings, coffee or tea.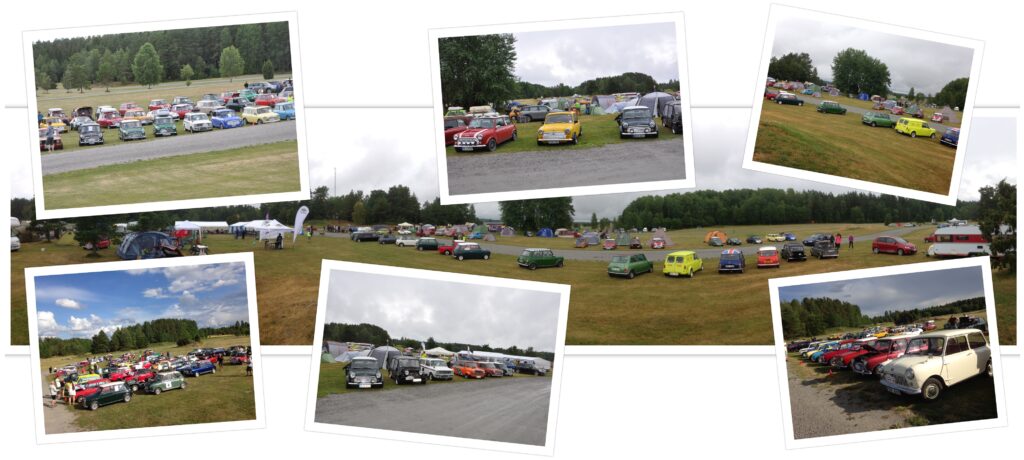 Camping
Camping on the large grass field is included in the participation fee and does not need to be booked.
Offer from Sävsjö Camping
If you want to live a little more comfortably, there are a limited number of campsites with electricity and cabins to rent at bargain prices (SEK 280/night for an electric pitch, SEK 550/night for a cabin). Booked cabin is paid on arrival directly at the campsite. To get the discounted meeting price, you must call the campsite yourself and book to receive our discounted meeting price (phone +46 382 100 40). Be sure to indicate that it applies to the Nordic Mini Meeting. You should NOT book via the campsite's booking site!
The above only applies to booking electric pitches and cabins. Camping on the large grass field is included in the participation fee and does not need to be booked.
Tickets & Prices
You buy tickets in advance via the booking page. It will not be possible to buy tickets on the spot.
Children under 12 enter for free in the company of an adult visitor but must have a ticket, you order child ticket(s) at the same time as you buy your own tickets. Any allergies (gluten/lactose) are stated when you buy the ticket. We do not sell tickets to day visitors. If you just want to come in and look, it's free. If you want to participate in the meeting only on Saturday, you have to pay full price. For prices and what is included see below.
Adult – Early Bird – SEK 550 (goodie bag + t-shirt) book and pay before 31/1 2023
Adult – SEK 650 (goodie bag + t-shirt) book before 31/5
Adult – 1/6-13/7 SEK 650 (goodie bag – not t-shirt)
Children – Free (up to and including 12 years accompanied by an adult. T-shirt not included)
Optional
Breakfast – Friday, Saturday, Sunday – SEK 270/person
Breakfast – Saturday, Sunday – SEK 180/person
Breakfast – Sunday SEK 90/person
Meeting special – Discounted membership in CMCS – SEK 250 (normal price SEK 300/year)
What is included in the ticket?
Campsite without electricity, goodie-bag and T-shirt (no t-shirt when booking after June 1), dinner Saturday evening, entertainment, and participation in all activities.
Questions
Any questions can be sent to nmm2023@cmcs.se or if you prefer you can call us –
Sofie Kronsell +46 70 8194419
Christina Ohlzon, +46 70 3070887